Optical Transceivers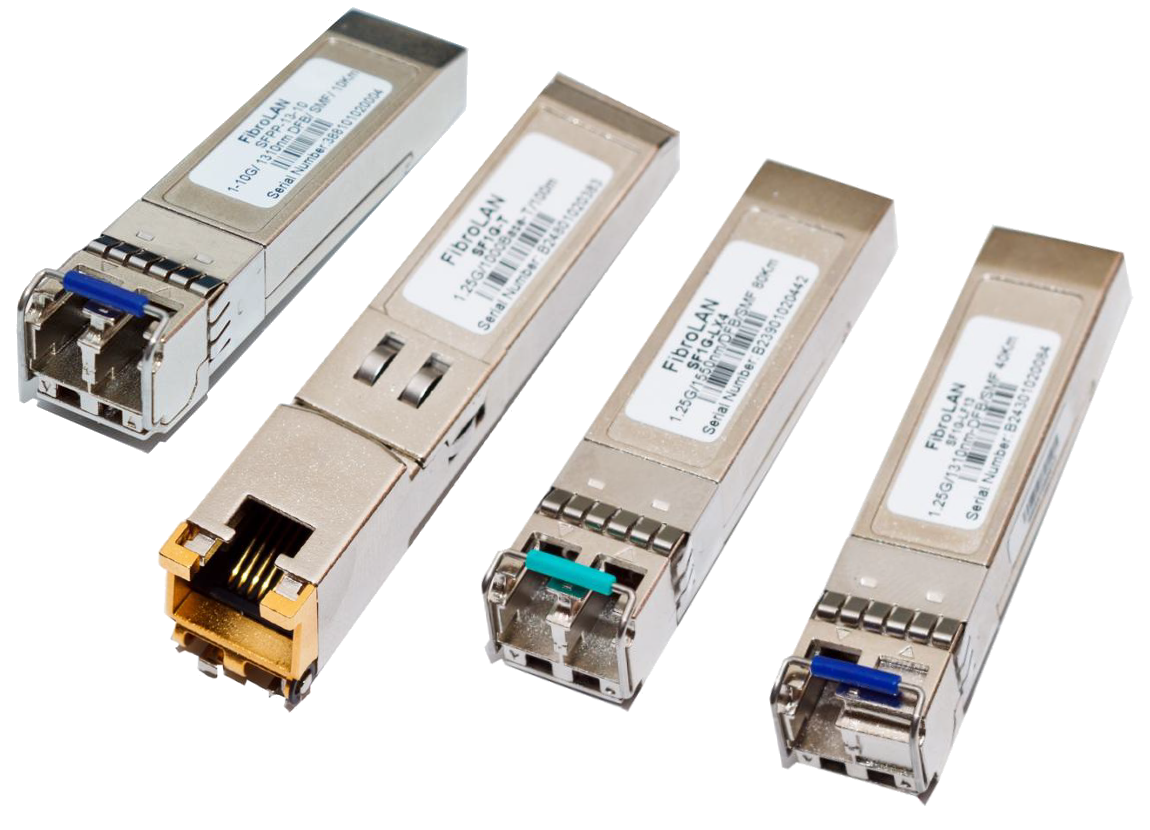 Fibrolan's broad portfolio of optical transceivers include SFP, SFP+ and XFP series
The SFP SF1G series are designed for Gigabit Ethernet data links and are deployed in Fibrolan MCM1000X and MCM1000X-RL MetroStar modules, in GSM1000X, U.CON2500 remote access device, and in Falcon NTU&μFalcon series.
The SF2G series are designed to operate from 100Mbps to 2.5Gbps and are deployed in Fibrolan MSM2500U MetroStar module and in U.CON2500 Converter/Extender device The SFP SF4G series transceivers operate within the range from 100 to 4.25Gbps and are suitable for Fiber Channel applications deploying the MSM4000U module and U.CON4000 device
These Fibrolan devices are protocol independent for the specified transmission speed and efficiently support Fast Ethernet, Fiber Channel, Gigabit Ethernet, OC3, OC12, OC48, STM1, STM4, and STM16.
Small Form-factor pluggable optical interfaces are suitable for ease of deployment, maintenance and logistics, and do not require any settings or measurements.
The main advantages of the hot-swappable SFP optical interfaces are the density, flexibility, and cost savings. SFP modules can be easily interchanged, thus fiber optic networks can be upgraded more conveniently than with traditional modules. The SFP transceivers provide status information (SFP modules status and digital diagnostic status). The key features are common to all SFP series.
SFP+ is the next generation transceiver device designed for Fibre Channel and the Ethernet applications. This module is similar to SFP (deployed for lower bit rates: 1Gbit/s-4Gbit/s) which is 30% smaller in size than XFP. Other advantages are low power consumption, simple optical design and low cost compared to XFP. Single fiber transceivers are also available.
Most of the logic has been removed from the SFP+ module which now contains only the electrical – to – optical and optical- to electrical components and functions.
Thus the reduced size and lower power consumption allow a higher port density
The Fibrolan 10 Gbps XFP type Optical Transceivers (FXFP Series) are Multi-Source Agreement (MSA) compliant and provide high performance duplex data links for bi-directional communication over Multi-mode and Single mode fiber. The XFP has become the popular choice for the 10Gbps optical transceivers.
For detailed specifications please refer to the relevant datasheet in the Download tab
For detailed specifications please refer to the relevant datasheet in the Download tab
For ordeing information please refer to the relevant datasheet in the Download tab